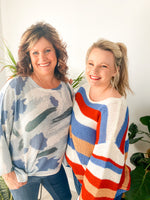 The Heart Behind Botanica
Botanica Modern Market is a women-owned Mother Daughter operated boutique, where we are committed to offering quality, stylish clothing, accessories and so much more to the Midland area. We strive to provide the most up-to-date styles when it comes to clothing, home decor and unique gift choices. We get so excited to go to trade shows and handpick every item in our store specifically with our customers in mind! We like to see the clothing in person, touch the fabric and meet the designers. That way, we know for certain that the quality will meet our standards.
Must Have Holiday Goodies & Gifts!